15 Gadgets That Will Make You Feel Old
Kevin Smith, businessinsider.com

Remem­ber those pre-iPhone days when Motoro­la made the hottest phone on the plan­et?

It may feel like yes­ter­day, but it was longer ago than you think. Same goes for a bunch of other insane­ly pop­u­lar gad­gets and apps.

Take a look at thes…
The New iPad As The Next Gaming Console
To deny the iPad's gaming capability would be more than ignorant whether referencing the" New iPad" or the iPad 2. The graphics for games such as Infinity Blade are precise and crisp the latest iPad's CPU only adds to strengthen that. With graphics processing capabilities to rival that of the current XBOX 360 and PS3 the iPad is both a mobile and console gaming platform to be recon with. At least it could be as it currently stands it's missing a couple key elements.
The lack of physical controls is a huge one, though Epic Games has done a great job with the Infinity Blade Series and innovative touch controls, it's still not the same. Now there are a few developers out their working on that, the problems they run into is getting the App programmers to integrate the controller code into their games. Though the codes are often free they require extra programming and the decision of which controller to pick. To get that actual controller in your hands for an iPad is really going to require one of two things. One Apple could make a physical controller and honestly I don't know if that's just a dream or not it would at least give game developers one controller platform to work with. The other option is the creation of an app similar to Joypad but done by Apple which would turn your iPhone or iPod into a controller for the iPad. The other key element lacking are console quality games however Mike Capps President of Epic Games said "Apple is definitely building their devices as if they care a lot about 'triple-A' games" and if anybody would know he would. If that's true than drawing game developers or games already in the works to deliver that console quality probably won't be a problem for Apple. 
Roundup Of Some Of 2011's Best Gadgets
The iMac easily became the best Desktop and at $1700.00 the price is steep but the quality is unmatched. This computer is made with fine lines and a long life expectancy.
The iPhone 4, many are claiming it's the 4s but more consumers are rocking 4 than the the 4s right now. I'd call it a tie.
For laptops it's the MacBook Air hands down. Every other company out their is trying to make theirs look like it. I'd say instead of getting one that's like a Air just get a Air.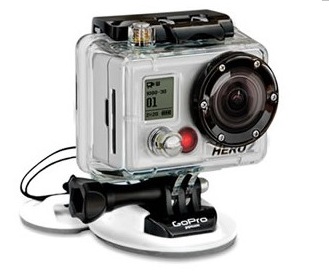 For the Sporty Geek it's the GoPro Hero 2 HD this thing is small, lightweight, rugged and can be attached to literally everything!
For the Lazy Geek it's the all time classic XBOX 360
For E-Readers and cheap tablets their's just no touching the Kindle Fire it's one hot gadget!
Headsets has to be the Skullcandy Aviators with a full range of sound, extreme comfort and three great designs, at $130 their a far better deal than many of the overpriced, under quality competitors. 
Peripheral of forever I think is the SWTOR Razer Gaming keyboard with ten custom hot keys and a multi-touch LCD track-panel The Force will be with you in all your gaming ventures.
The iPad 2 I feel is the all around gadget of the year, not just in the tablet sector but for an overall gadget of 2011.
Last but not… well actually it is least… the Worst Crapgadget of 2011 was the Blackberry Playbook.
Well these are just a quick roundup of what 2011 brought us, what was your favorite gadget this past year?
Star Wars XBox 360 Bundle Set For Early April Release
If your a Star Wars fan and a gamer than April is your month as you'll finally be able to get your hands on the Star Wars XBox 360 bundle. The bundle gets you an R2-D2 themed XBox that not only looks like the little guy but beeps like him to when you operate the disc drawer, along with a C3PO esque gold controller and all white Kinect Bar. It's avaliable now for pre-order at GameStop for $449.
http://www.gamestop.com/xbox-360/consoles/xbox-360-limited-edition-kinect-star-wars-bundle/92652
Co-Creator of XBOX Seamus Blackley Teams Up With Atari Vets
   Blackley says-"We are looking at the new arcade, and 99 cents on the iPhone is the new quarter," 
   Blackley, along with eleven Atari veterans, have joined together in a start-up venture to make a series of games for Apples iOS products. Joining them, is a group of interns who are in their twenties and familiar with the app development process. The whole team, though diverse, agrees that there is a large rise in the arcade experience. (Or casual gaming as most of us refer to it). They're looking to do new, innovative games, not just spin offs of old Atari 8-bits. So far they have ten games they're working on, seven of which are in prototype stage. The goal is to create a quality experience and tweak it to perfection giving the gamer the ultimate casual gaming experience. These games need to stand out in order to generate users and money just as the coin op games in the arcade had to. They're hoping to see the launch this summer relying on THQ, who is backing them to get the word out.
http://venturebeat.com/2012/02/02/seamus-blackley-launches-innovative-leisure-mobile-game-startup-with-atari-arcade-veterans-exclusive/